10th. August 2010.
Dear Peter,
I'm currently enjoying my summer holidays and as I'm sitting here next to pond I thought let's get the laptop out and write a few words to tell how everything is going after almost 4 months with ERIC.
Maybe I should start with a reflection why I got in contact with you and what I had hoped for the new filters would do for my Kois.
My previous filter system was a widely used and well-known combination of moving bead units and a pressurised bead filter plus some other gadgets. The filter produced good water parameters; the water was gin clear and I didn't really have any major health problem with my Kois. So why bother to change the system when apparently "all is fine"? Of course I have followed the latest developments in filter technology and was seriously considering some up-grading i.e. adding a drum filter but this would have been mainly for maintenance reasons. However, last year (the system was running the 3rd summer then) I realised that despite the above something is not right at all as my expensive Go Sankes showed Hikui and the general skin and colour condition deteriorated. That's when my search started.
My Koi Dealer couldn't help, the Koi doctor blamed the sun, the filter manufacturer had no idea and on the German speaking forums and websites there was nothing serious to find. Only early this year I "stumbled" over your fantastic KoiKichi website and found my poor Kois and my own situation exactly described in various articles on the site (particularly "The Three Big Downers").
Finally I got some clear and logic indications were to look for the problem and I went to check this out on my filters.
It was as you described it on the web, a thick and stinky mass of sludge has built up at the bottom of the Bio Chamber of the moving bed units.
Next was the pressure filter. After a thorough backwash and rinse I dismantled the thing. Again, the beads did not look exactly as "clean" as one would expect after a full backwash. Well, these findings made me write the e-mail to you and asking for your advice for my particular situation. I have been very impressed to get an answer from you within 24 hours and so the ball started rolling. I remember well the various and extremely pleasant telephone conversations and e-mails with you and I decided to go for it!
As my Koi dealer and friend was still "annoyed" with me and my plans to change "his" system I was more than happy that you arranged for Matt to come over and do the conversion. He has done a perfect job and he is such a pleasant person to have around you. Thanks a lot again Matt.
You remember, I have been quite worried about the running in of the ERICS. Again, following your instructions has made this period a "non event" (except the hick up in nitrite after spawning, but that was me who missed it).
As I keep records of water parameters and amount of feeding I can compare them easily with the previous system. For my normal measuring I use common drop tests, but I also take regularly samples to my Koi dealer who has a proper photometer. And I tell you, he has a special look on his face when he shows me the results, which are constantly better than previously (and maybe better than in his pond?).
STOP Press: I am back – I have had to feed the KOI !!
When I remember how long it took for my previous system to "feel strong" I'm still puzzled how well the ERIC units are doing since day one of the installation. Every time a couple of Kois were added or food increased by a little bit, or sometimes even without any apparent reason at all the old system kind of "bugged" and showed Ammonia readings and consequently Kois not feeling so well. I obviously thought that this is normal behaviour for a filter, but I know better now. Well, you knew this all before and I guess this is what you simply call "efficiency".
In summary, I have already achieved my prime target of producing better water for my Kois, and best of all, they show it to me. Colours and skin quality has significantly improved in this very short time and they are way more active and are eating very well. I should have taken some pictures of "before" and "after", but I have missed that. We have now also started the Hikui treatment, and I'm quite positive that we will see some promising results in a few months time. I keep you posted on that.
Obviously I have tried to eliminate a few other "bugs" in the system, with the change to ERIC. Water is rare and electricity is expensive down here in the south of Spain.
I now use significantly less water for pure filter cleaning purposes than before and as I could get rid of the "monstrous" pump for the pressure filter my electricity bill is down by around two thirds. Great stuff for my wallet!
A new filter system should also not give more work for maintenance, although I don't mind that work at all because it's only a part of the hobby. I have been quite sceptical about the brushes as a mechanical filter.
However, I only really realised how different your "brush box" is when I had it in my hands. This has nothing to do with the picture in my head of messy and stubborn to clean brushes. It's a "box" now and as such can be handled very comfortably and easily. Your recommended daily flush is sufficient to clean the brushes under "normal" circumstances of my pond. During spawning I felt that I needed to take the box out and hose it down. Again, due to the box format this is a doodle to do and takes me less than a minute. Unlike at this time in previous years, I haven't got an algae issue so I can't comment on this type of situation.
The beauty with the cleaning of the ERICs is that I'm not spending time just for something to "happen" i.e. draining to waste, a "bubble" cycle for the Eazy, filling up and all over again. No, when I go and clean the filters then I do just that. The job is done in a couple of minutes and I'm left with an "as good as new" filter just like you said.
In summary my daily maintenance time for all 4 ERICs takes less time than one mere recommended "bubble" cycle of the moving bead.
Ah, and as I use less water for this, the constant trickle fills the pond up by the next day. Again, no more waiting for the top up to complete and no more expensive water neutralizers required.
These are all very nice side effects, which I happily take in as they came for free with every ERIC. My real aim is to get the best water for my Kois and I see already that I have made a very significant step forward in that direction.
Peter, thank you very much again for all your very valuable advice and I sincerely hope we can meet up one day personally, be it in England or maybe even in Spain.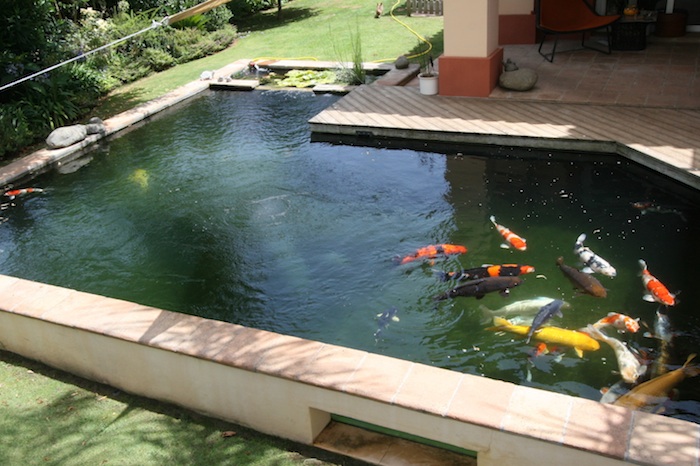 Un saludo and kindest regards,
Marco