Few enthusiasts realise just how important a perfect filter design can be to the enjoyment of the hobby. Many still judge the ability of a filter by the clarity of the water it produces whilst others base performance on so-called water readings as some kind of proof.
These two factors alone may well be 'indicators' that a filter is doing its job but, with many filters that deliver these two factors alone, the results are not reflected in the condition or well being of the Koi within the pond.
If constant bacterial and/or parasitic problems on the Koi are being experienced, then no matter how clear the water is and no matter how perfect the water quality readings may be then one can be sure it's the filter system that's the culprit.
Whilst many Koi filter designs on the market today can do a good job in removing mechanical debris from the water passing through them, very few of these have the same ability to release this debris to waste when required and, as a result, this waste is allowed to build up inside the filters.
It is this constant build-up of waste matter within the filter that produces these adverse effects on the Koi within the pond. The problem here is that little of the waste matter can be detected with the naked eye unless the units themselves are physically stripped by hand and checked.
Pressurised 'bead filters' may well produce good water clarity by trapping the debris, but they are nowhere near as efficient in releasing it.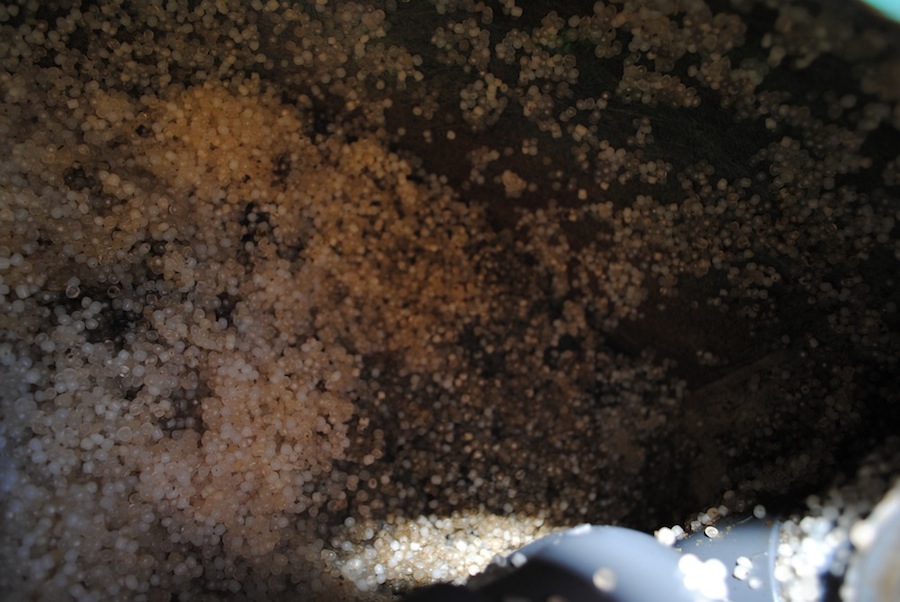 Multi-chamber upward-flow units may well look clean to the casual eye. Many of these have waste valves fitted to the base of each chamber for periodic discharge to waste, but it's only when the media is removed that we can see what's happening below.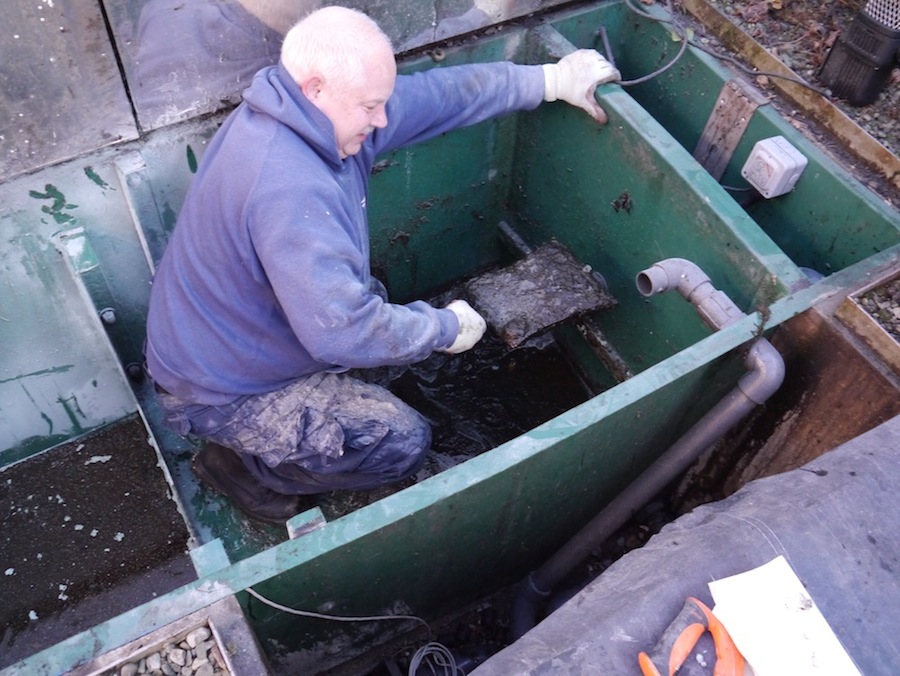 Perfect Koi filter design revolves around daily cleanliness and the ability of the filter to maintain this cleanliness at all times.
As can be seen in the photographs above, stripping these types of filter units is a laborious process and not one that the owner relishes.
Eric Pond Filters cannot possibly suffer with these problems as they can be maintained and 'seen' to be 'brand new' on a daily basis both in the mechanical stage and the biological stages.
The unique horizontal water flow in Eric Filters allows for a narrower and shallower outer box that enables the entire filter to be cleaned in a matter of seconds in order to see a perfectly clean box below.
Furthermore, because so little water is discharged to waste, there is no need to wait for 'topping up' as the filter can be re-started immediately.
Because of the constant media coverage, Eric Pond Filters mature from new almost immediately rather than having to go through what many term as 'new pond syndrome' (NPS).
If you speak to owners of these systems, especially those with past experience of other units, you'll find their Koi are healthier and brighter than before and parasitic/bacterial disorders are now almost a thing of the past.
Of course, water clarity is guaranteed and water quality readings are perfect.