Sincere apologies, this thread died on July 4th. 2011 and it was very remiss of me not to explain why.
The plan was to remove my existing system and replace it with four ERIC FOUR units but what would it prove?
There are several large Koi ponds all running with E4 units and it's already been well proven that they work.
So since then, I admit that I've given the problem much thought – on and off.
During all this thinking my wife started to get very unhappy with the mess that once was her garden and most of us know what can happen when wives get unhappy…..
Some weeks ago, Ian Miles, who does all my installations, contacted me to say –
'Look, why not fill the pond up again, start it up with one E4 filter and see what happens – at least Hilary will get her garden back'!
Ian made sure Hilary heard this and suddenly her eyes brightened up.
I wasn't exactly happy when Ian said – 'Let's see what happens' because it's not the way I work.
If I am to do anything 'pond wise' I need to have a reasonably good idea as to what will happen and that's when the thinking started all over again.
Could just ONE Eric Four unit successfully filter a 16,500-gallon pond with four independent bottom drains?
Initially I thought it to be an outright impossibility until I put a little more thought into it.
Firstly, knowing full well it's out of the question trying to place four independent 4" drain lines into one common box and hoping they will all deliver the same amount of water.
The only way possible was to stick to my 'ONE drain to ONE filter to ONE pump' maxim – but how to do all this with only one filter and one pump?
Yes, it was a mammoth challenge but I thrive on challenges and thus decided to go ahead with the new installation in mid-April this year.
The pond had been empty of pond water for some months and the water inside when we set out to tackle it was rainwater.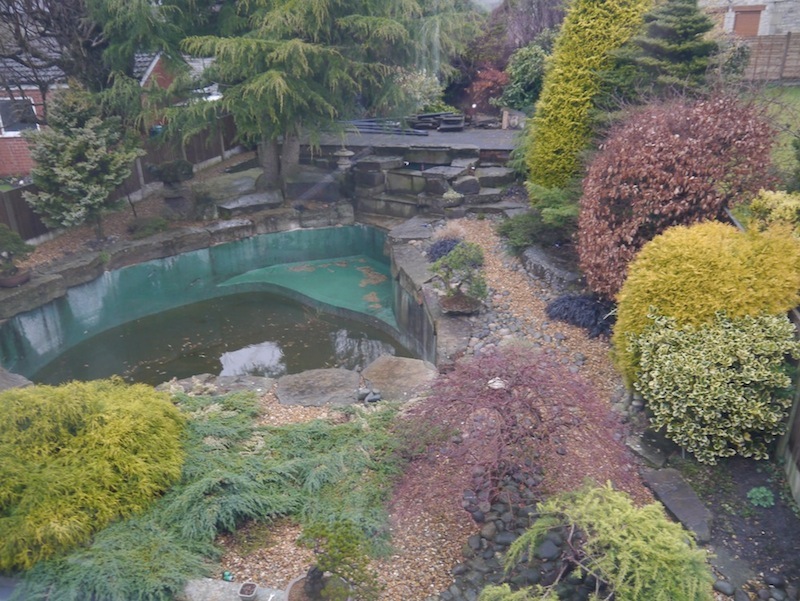 All kinds of debris and vegetation had been blown in due to the harsh winter.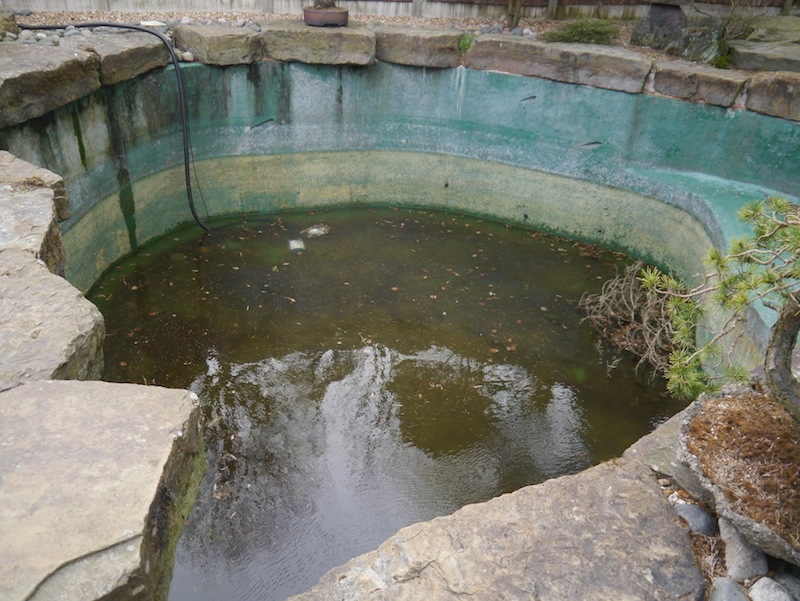 The pond had to be fully drained by a submersible pump and then cleaned thoroughly.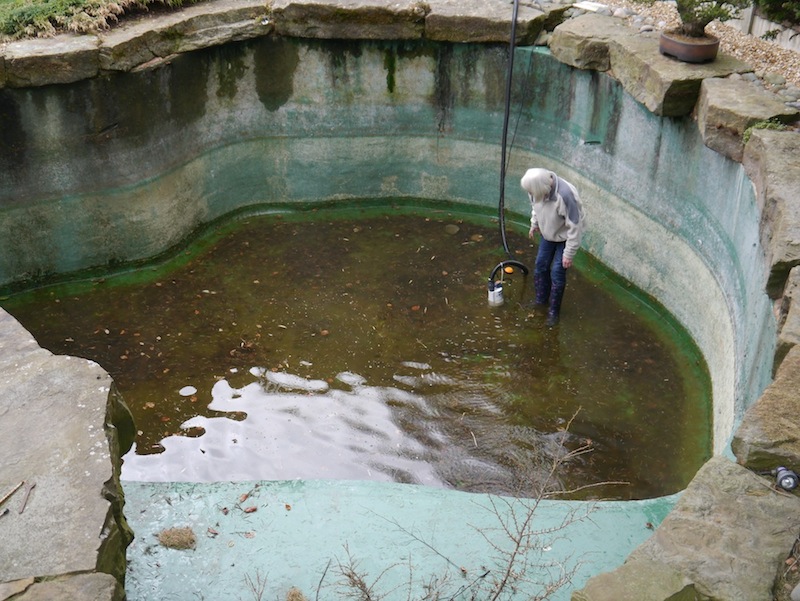 The filter house was even a bigger disaster –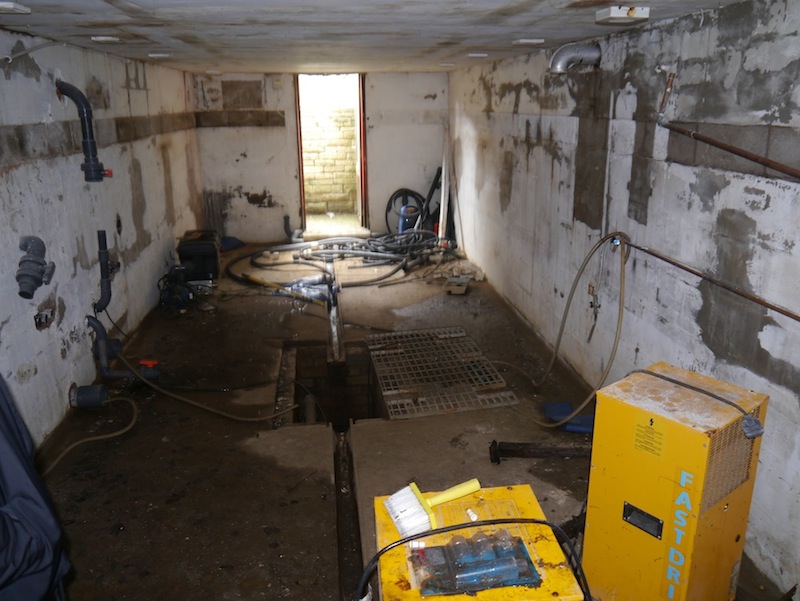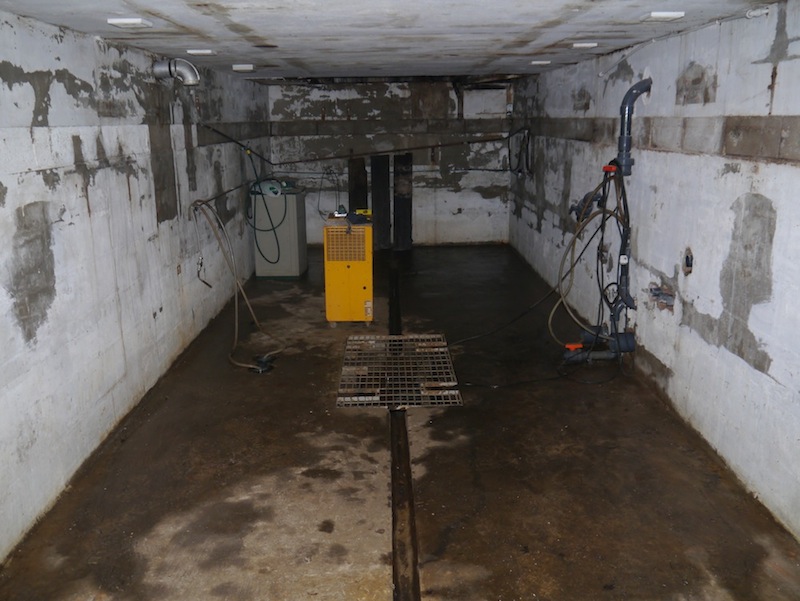 The filter house roof required a large part of it removing 18-months ago in order to get the old filtration units out.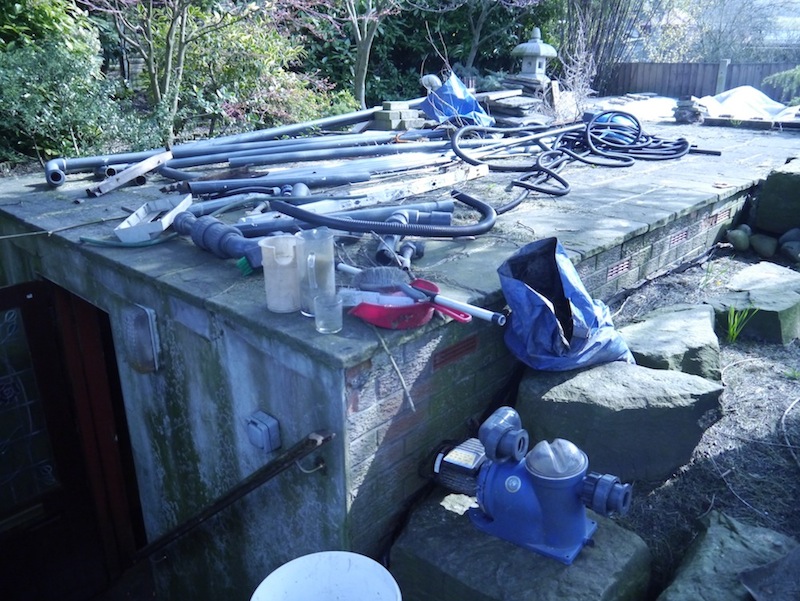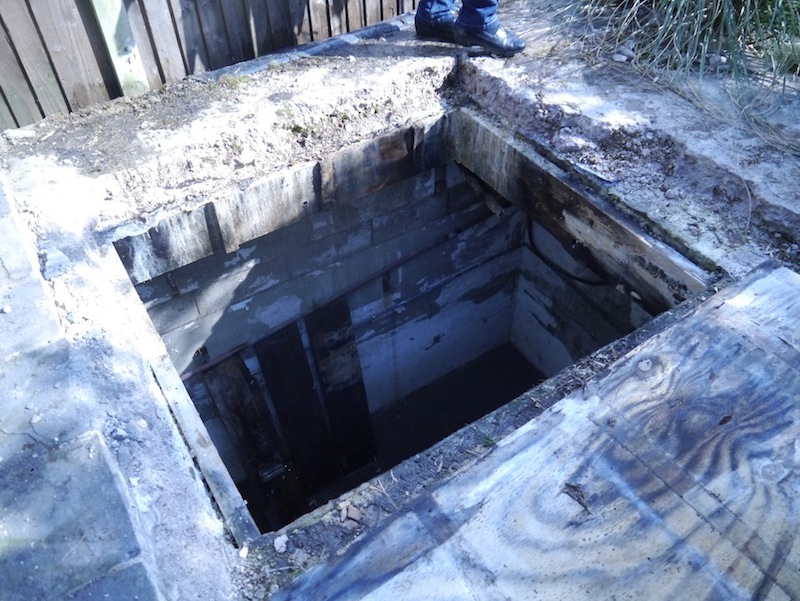 Eventually the pond was cleaned but it still looked a mess, being exposed to low temperatures had damaged parts of the glassfibre.
The entire pond walls and base needed re-sealing.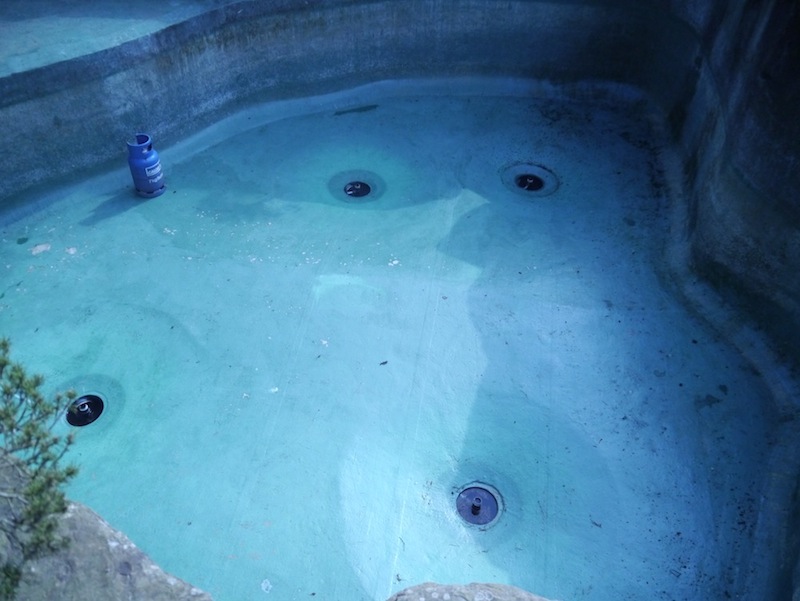 In early May, work started on the filter house.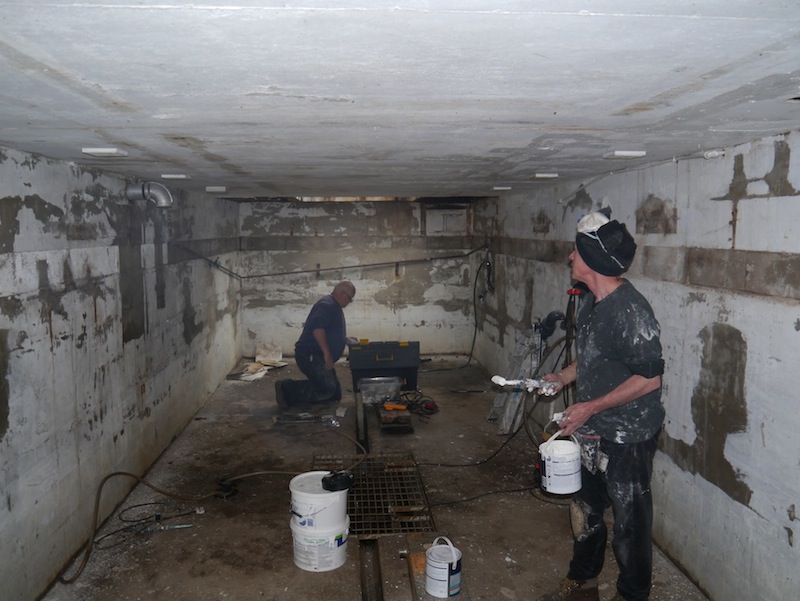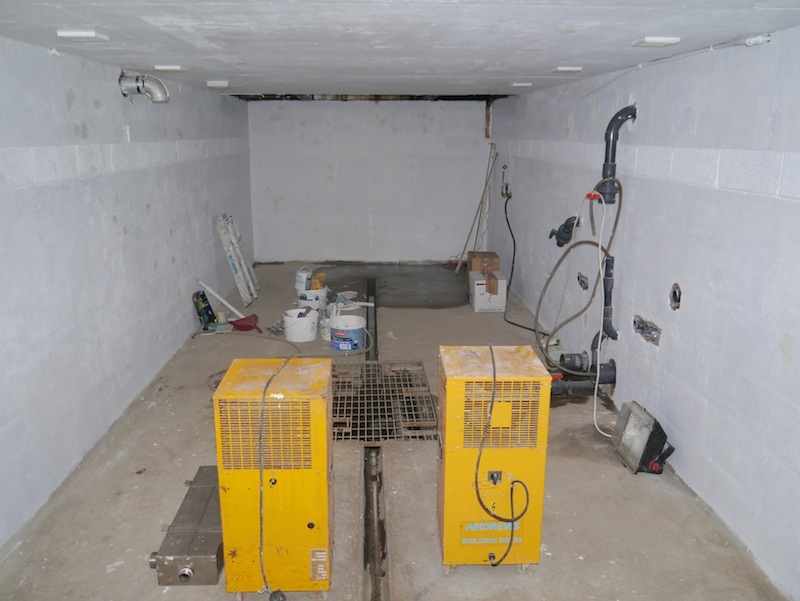 The first problem raised its head when we realised that the four 4" drain lines entering the filter house had been placed specifically for the old filter system, this was not where we needed them for this filter system.
Another problem was that the guys hired to trash the old filter house had cut these lines so close to the floor and the wall that we had to chisel the concrete out in order to get to the lines and add new fittings.
The filter house door was also falling to pieces and as I have a particular hatred of pond windows we took this fun shot of a pond door!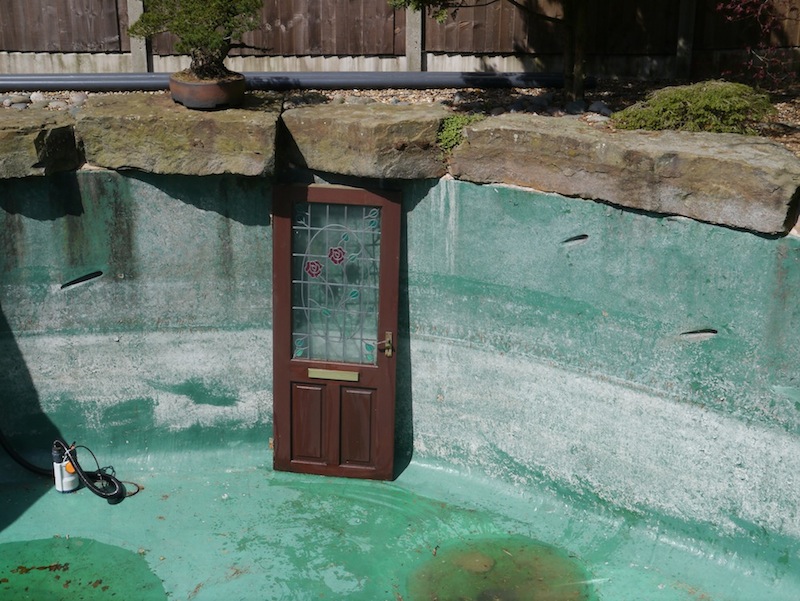 The old filter house still had mains water, gas and electricity supplies to it but these had been capped long ago.
This shows Ian Miles finally getting mains electric supplies into the building.
The next job was to get the pond walls and base 're-surfaced'.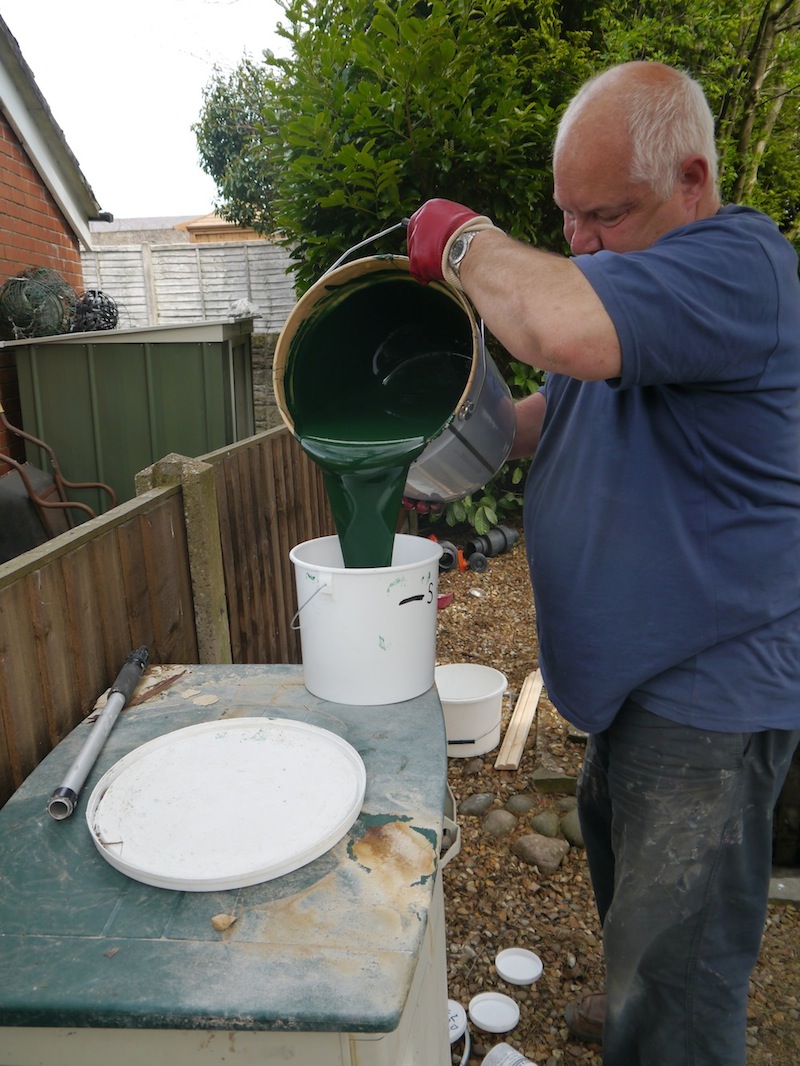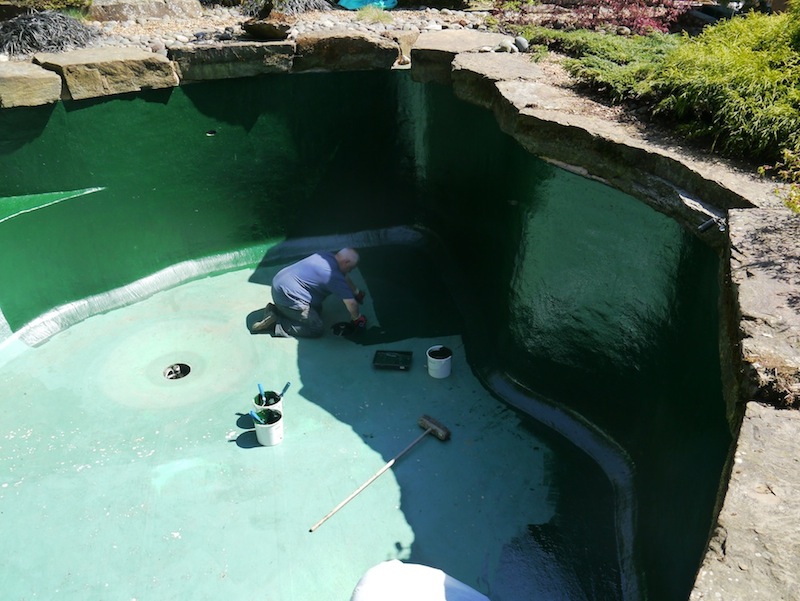 After seeing this wonderful transformation, even I started to get excited!
The filter house seemed to improve by the day.